2023 New design led street light casing, die cast aluminum street light
Model Number : EK-BL04
Product Name: Street Light body
Recommend the Watts: : 30w 40w 50w 100w 150w 200w 240w
Waterproof Index : IP66 IP67
Earthquake-proof Index : IK08 IK09
Working Temperature(℃): -20-60
Surface Color : Dark Gray, Light Gray, Black, Customized etc
Contain Accessories : Aluminum Body, Toughened Glass, Handle,Assembly Screws, Rubber Ring
Summary
die-casting aluminum 30W 200W IP66 SKD housing and tool free led street light
Shenzhen EKI was founded in 2016's (The factory was established in 2009), We are starting from die-casting factory in Zhe-Jiang, China. Focusing on Aluminium Diecasting Small parts & Driver boxes then development to the LED Street Light Housing. With Our High-Technology Machine such as, 400T – 800T,1000T,1200T Die Casting Machine, CNC Machine,Spray line and surface treatment facility.
We becoming specialized in LED Streetlight Housing, LED Floodlight Housing, LED High bay Heat sink Empty Casting and so on. Our company has a good reputation in the LED industry such as high-quality products, innovative designs, responsible, etc. We are very happy to be the strong backing and supports of our customers
Product Features
1.Aluminum body is made of ADC12 aluminum Die-casting, the surface treated by Spray-painting to Prevent Corrosion and Color Persistence.
2.Large area heat sink fin design for fast theory in favor of the convection between cold and hot air, to keeping the good heat dissipation of lamps and increase the light whole life-time.
3.Power supplier box to keep the lamp complete and unified.
4.Ventilation design to dust prevention & prevent stagnant water to achieve the light long-life time.
Specification and Dimension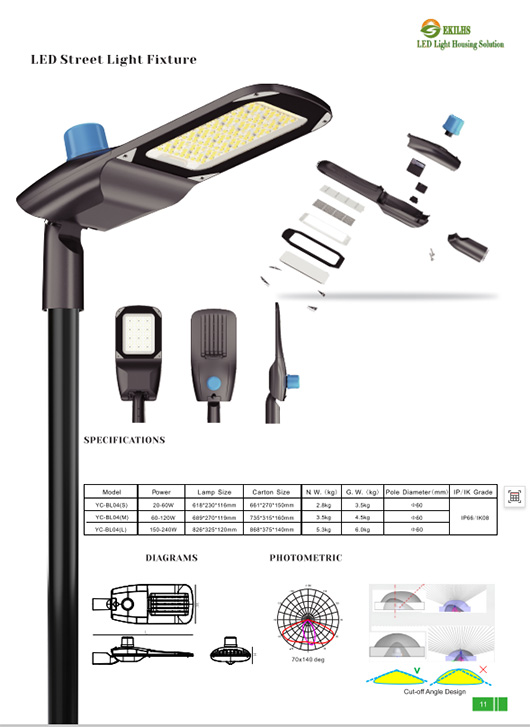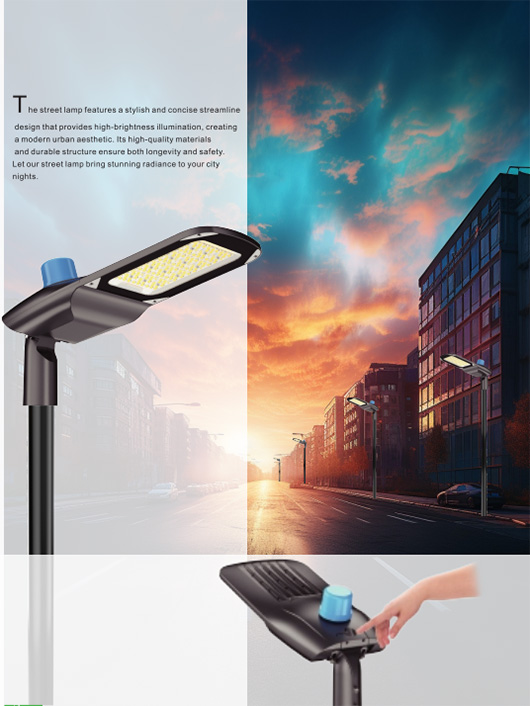 Item No.
Casing Size(mm)
Suggest Power
Accessories
EK-BL04(S)
618*230*116
20w-80w (lamp post 60mm)
 Aluminum Housing, Tempered Glass, Rubber ring, Screws
EK-BL04(M)
689*270*119
60w-120w (lamp post 60mm)
EK-BL04(L)
826*325*120
150w-240w (lamp post 60mm)
Led street light housing, Street light casing
ShenZhen EKI Lighting Industrial Co.,Ltd. is the manufacturer of Aluminum Die-Casting LED Light Housing With the various of our own developed design and technologies.
With Our High-Technology Machine such as, 250T 800T 1000T 1250T Die Casting Machine, CNC Machine, Well Managed production line and surface treatment facility. We becoming specialized in LED Streetlight Housing, LED Floodlight Housing, LED Highbay Heatsink, LED  Empty Casting aluminum light housing.
Features of LED Street light housing:
Highly durability
High strength
Latest designs available