What is LED Street Light Housing Surface Color Painting ?
Powder spraying refers to the use of corona discharge to make the powder coating adhere to the LED street lamp housing.
After heat melting, curing and other processes, a coating film will be formed on the surface of the LED street light housing.
Die cast led street light housing surface painting Process flow:
1.Surface pretreatment, the main function is degreasing and rust removal;The surface should be free from any dirt, dust, oil, or other contaminants that may interfere with the adhesion of the powder coating.
2. Scrape putty, according to the defect of the street lamp shell, apply the conductive putty, sand paper smooth after high bath.
3. Preheating, if the coating is required to be thicker, the street lamp housing can be preheated to 180 degrees to 200 degrees,
4.For spraying, in a high-voltage electrostatic field, connect the powder spray gun to the negative pole of the street lamp housing, which never constitutes a loop,
5.After the street lamp is sprayed with powder, it is sent to the drying room at 180°-200° to heat it to solidify the powder.
6.Clean up, after the street lamp shell coating is cured, remove the protector and trim the burrs.
Other considerations
Masking: Any areas of the housing that should not be coated, such as the lenses or electrical components, should be masked off to prevent the powder coating from sticking to them.
Inspection and Testing: After the powder coating is cured, the housing should be inspected for any defects or imperfections. It may also be tested for adhesion, impact resistance, and other properties to ensure that it meets the required specifications.
Overall, powder coating is a highly effective method for protecting LED street light housing from corrosion, abrasion, and other types of damage, and can help to extend the lifespan of the lighting fixture. It is important to follow the correct procedures and safety guidelines when applying powder coating to ensure a high-quality and durable finish.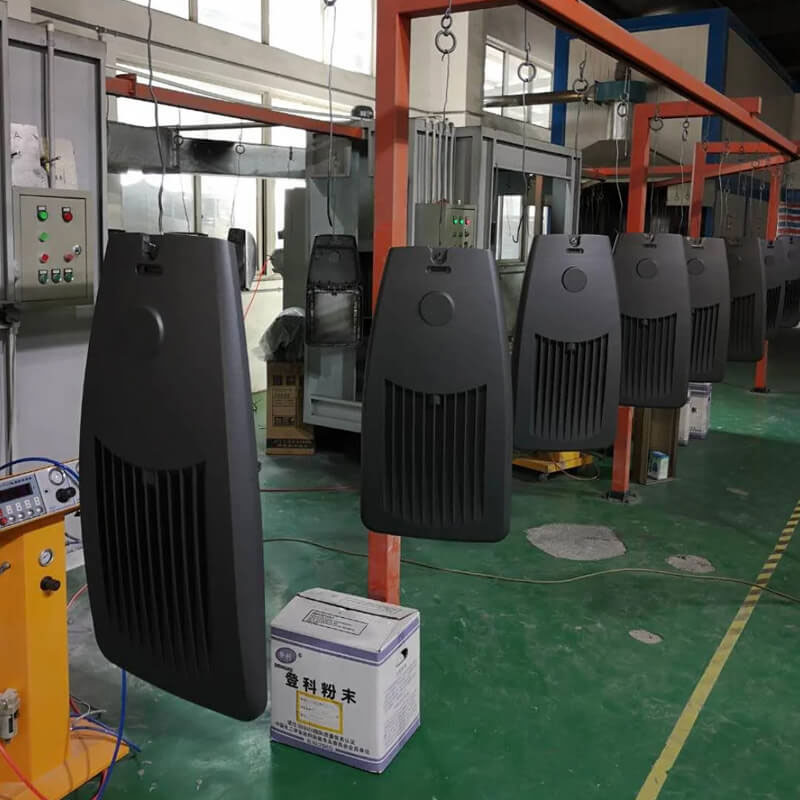 Shenzhen EKI Lighting Industrial co.,ltd. special manufacture of die casting led street light housing , outdoor led light housing ,led street light , led garden lighting.